Veggies, Herbs, & Pecans
Seasonal Produce
We offer certified organic seasonal, fresh fruits, herbs, and vegetables. Depending on the season, we grow basil, blackberries, strawberries, garlic, radishes, lettuce, spinach, potatoes, onions, beans, beets, kale, rutabaga, broccoli, cabbage, cauliflower, squash, tomatoes, pumpkins… just to name a few! When in season, all of our fresh fruits and vegetables are offered for sale directly from the farm, through our CSA, or at the local farmers' markets.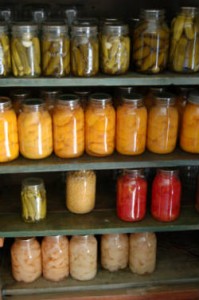 We also offer a pick-your-own apples, blackberries, strawberries, and blueberries.
Pecans
Our certified organic pecan orchard provides amazing nuts just in time for the holiday baking season. We don't use pesticides or chemical fertilizers on our orchards and the result is a healthier, safer product. Our trees produce in volume every other year. Contact us for availability.
Frozen Fruits and Vegetables
An assortment of freshly-frozen, vacuum-sealed fruits and vegetables are also sold directly from the Farm Store. Contact us for availability.